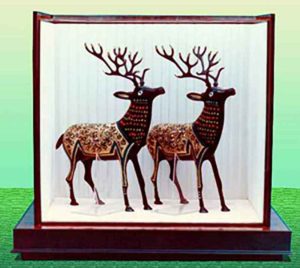 Bronze Craftwork "Deer"
It was presented to President Kim Il Sung by a member of the International Civil Aviation Organization and his family in April Juche 75(1986).
When he worked in the DPRK, he boundlessly admired the greatness of the President who not only led the people's struggle to victory by setting forth the correct lines and policies in all periods and at every stage of revolution and construction but also illuminated the road to be followed by the world's people. 
So he and his wife presented to the President their sincere bronze craftwork "Deer" on the 74th anniversary of his birthday.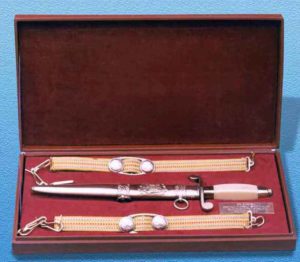 Ornamental Dagger
It was presented to Chairman Kim Jong Il by the state secretary of Ministry of National Defense of Romania and the chief of general staff of the armed forces in November Juche 80(1991).
Conveying the gift, he said that it was simple but worn the invariable mind of the entire officials of the Ministry of National Defense highly respecting and revering the Chairman and expressed his firm belief that the Korean People's Army led by the Chairman, an ever-victorious iron-willed commander and outstanding military strategist, would be invincible and the Korean people always achieve victory and glory.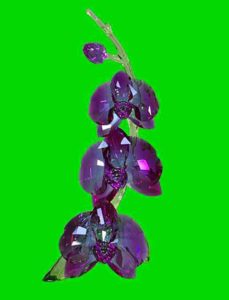 Crystal Craftwork "Orchid"
It was presented to the respected Comrade Kim Jong Un by the producer of a Swedish Film Co. in September Juche 106(2017).
It is said that orchid means love, beauty and elegance and particularly conveys the feelings of reverence, respect and dignity to the people.
Conveying the gift, he said that this exotic and beautiful flower means the quiet and strong and that it was his great honor to present the orchid craftwork to the respected Comrade Kim Jong Un wishing the DPRK, a prosperous country of bright future, would achieve peace and prosperity.