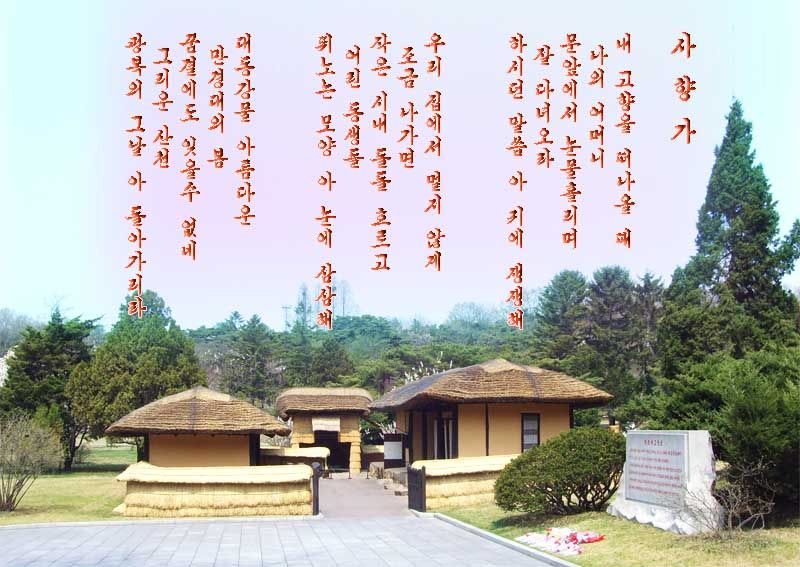 The Korean people particularly favour Nostalgia.
The song reminds them of the noble revolutionary career of President Kim Il Sung who devoted his all to the country, revolution and people.
When he fought against the Japanese imperialists he composed the song in reflection of his longing for his birthplace Mangyongdae. On a moonlit night he sang the song with his fellow guerrillas around a campfire, pining for the homeland seized by Japan. And during the Fatherland Liberation War he sang the song to implant love of home villages and the country into the minds of People's Army soldiers. For him Mangyongdae meant the country.
With the song in his mind, he found the Workers' Party of Korea, built an invincible nation – independent in politics, self-supporting in the economy and self-reliant in defence, and established the most advantageous socialist system.
Nostalgia was, indeed, a paean to patriotism of the great man who had always thought of the country beyond his hometown.
Nostalgia
When I left home my mother saw me off
And through her tears she said a "Farewell!"
That is still ringing in my ears.
Near my house a brook is trickling.
There my little brothers would be frolicking
Whom I still see vividly before my eyes.
A lovely spring at Mangyongdae with the Taedonggang flowing by,
O I do not forget this sweet home evening my dreams.
I shall return when the country is set free.