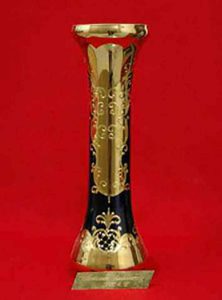 Crystal Vase
It was presented to President Kim Il Sung by the cultural delegation of Mongolian government.
Making a plan to visit the DPRK, the members of the delegation decided to present the crystal vase to the President cherishing their mind to hold in high esteem and follow the President as the eternal Sun of Juche who made an immortal contribution to accomplishing the cause of global independence and prepared it by placing a special order with the most renowned Mongolian craftsman.
Mediating the gift, the head of the delegation said that President Kim Il Sung would live forever in the heart of mankind like the sun was immortal.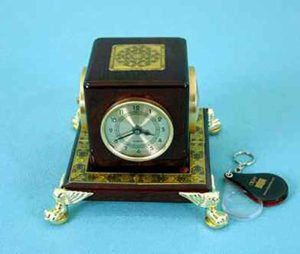 Weather Watch Tool "Zeus"
It was presented to Chairman Kim Jong Il by director general of Agro Stroi Company Ltd. in Russia in September Juche 99 (2010).
There are four gauges such as clock, dew indicator, barometer and thermometer on each face of the tool, which rotates regularly.
Presenting the gift, he said that the DPRK was the country which was solidly defending its own socialism fighting against imperialists. Such country was really a great power. He also mentioned that he prepared the gift with his feeling of respect to His Excellency Kim Jong Il who was greater than Zeus, the king of heaven, governing all gods of the world and the savior of human life.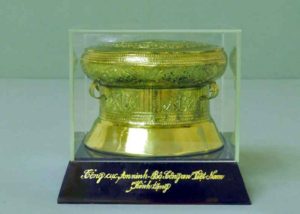 Bronze Work "Drum"
It was presented to the respected Comrade Kim Jong Un by General Bureau of Security, the Ministry of Vietnamese Public Security in August Juche 104 (2015).
It portrays a bronze drum which came into being in the 12th-13th century in Vietnam.
It shows the Vietnamese history of development and a symbol of Vietnamese people.
It portrays the pictures of showing the people's working lives around the sun and other animals like crane and deer.
The people portrayed in the gift are the diligent Vietnamese working people in those days.