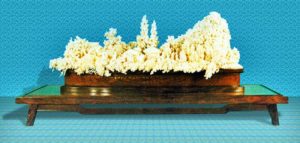 Ivory Sculpture "Old Home at Mangyongdae"
It is a gift presented to President Kim Il Sung on his 65th birth anniversary by a delegation of the Communist Party of China on a visit to the DPRK on behalf of the Central Committee of Chinese Communist Party.
Preparing the gift was proposed by chairman Mao Zedong and premier Zhou Enlai.
On the sculpture were delicately depicted old home at Mangyongdae, Mangyongdae Revolution Museum, warship rock, ash tree, Mangyong hill and visitors.
When the head of the delegation had honor to be met by the President, he presented it to him and said: "Comrade Mao Zedong saw and ratified the draft sketch of this ivory sculpture 'Old Home at Mangyongdae' when he was alive. And it was completed under the deep concern of the Party Central Committee. After having received the honorable task to make this gift, engravers sincerely made all their efforts to complete it. It shows that the relations between our two Parties and people are deep so much."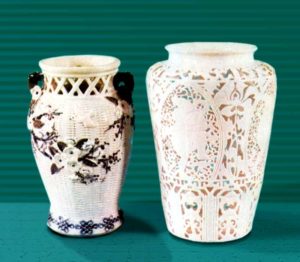 Porcelain Vase
This gift was presented to President Kim Il Sung by the prime minister of the then Democratic Republic of Vietnam in May Juche 51(1962).
Sprays of apricot blossoms, flying pigeons and beautiful patterns are delicately engraved on the vase.
Vietnamese people are regarding the porcelain vase as one of the most sincere gifts and presenting as a token of congratulation and blessing.
The vase is bearing their most ardent feeling of respect for President Kim Il Sung who is not only the great leader upheld by the Korean people for the first time in the history but also the benefactor of Vietnamese people.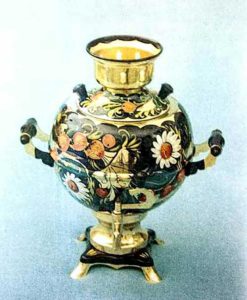 Metal Samovar
This gift was presented to President Kim Il Sung by the delegation of Russian National Patriotic Forces in April Juche 81(1992).
Visiting the DPRK on the 80th birth anniversary of the President, delegation members prepared the gift to convey their best wishes for good health of the President who was leading the Korean and world revolutions to victory.
They said excitedly that the President was indeed the veteran statesman who actively supported their organization in the struggle for socialism and the sole center of restoring socialist movement.