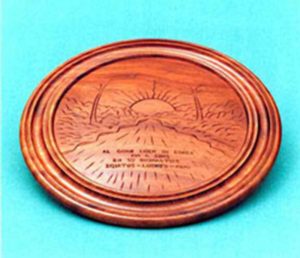 Wooden Craftwork "Sun of All the People"
The gift was presented to President Kim Il Sung by the first deputy speaker of the House of Representatives of the Republic of Peru in April Juche 75(1986).
When he visited the DPRK, he met the President and was taught that all the people should maintain independence and all countries adopt independent policies in order to achieve global independence. Since then, he had ardently admired the President as the great philosopher, theoretician and executor and as the Sun of all the people who highlights the path to be followed by the present era. 
He prepared the gift with the sun at its center to show his respect for the President and also with Amazon River, palm tree and forest that symbolize Peru and Latin America around the center.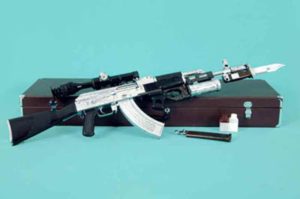 Automatic Rifle
The gift was presented to Chairman Kim Jong Il from the government of the Federal Democratic Republic of Ethiopia in May Juche 95(2006).
The torch of the Tower of the Juche Idea is engraved at one side of hand guard of the rifle specially made and just below it is the letter "Juche" in Korean.
Also, on one side of the gunstock are depicted the Earth and a brave tiger who got on it lifting his paw and glaring ahead.
Handing the gift over, the minister of defense said:
His Excellency Kim Jong Il is administering the Songun politics true to the intention of the great President Kim Il Sung. Songun politics has raised a powerful army that can defeat any enemy at a blow and driven the imperialists into a predicament. The DPRK has become a brilliant model in the accomplishment of global independence.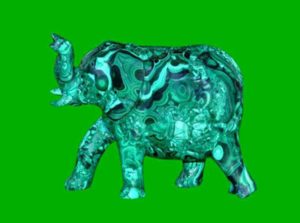 Malachite Sculpture "Elephant"
The gift was presented to the respected Comrade Kim Jong Un by the president of the Republic of Congo in October Juche 102(2013).
The president prepared the gift by reflecting his deep respect for the great leaders who made the Korean people recognized as the most dignified and proud people in the world and his reverence for the respected Comrade Kim Jong Un who has brilliantly been inheriting their revolutionary cause.
The gift was made of malachite rarely to be found in Congo to give a portrayal of an African elephant going forward with vigor. It shows tenacity of African people especially the Congolese and that the friendly relations of Congo and the DPRK would never change as well.