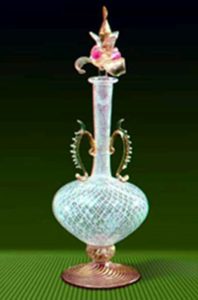 Crystal Work "Flower Vase"
This is a gift presented to President Kim Il Sung by a delegation of the Italian Socialist Party in October Juche 73(1984).
The crystal work exclusive to Venice is a pride of Italy.
It has been a long-standing Italian custom to present a vase of flowers as a souvenir to a respected man, wishing him happiness.
The gift reflected the unanimous mind of the members of the delegation who highly lauded and followed President Kim Il Sung as a great leader of the international communist movement and labour movement and a great man of the century.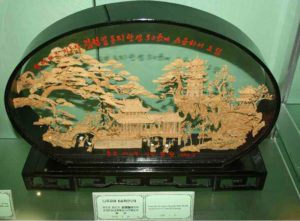 Woodwork "House and Pine Tree"
This is a gift presented to Chairman Kim Jong Il by the director general of the World Association of Cultural Exchange in January Juche 81(1992) on the occasion of his 50th birthday.
The director general had profound respect and reverence for the Chairman who was leading the cause of socialism with outstanding ideological and theoretical activities and energetic guidance, and therefore he decided to prepare the gift with sincerity and asked a famous craftsman to make it at the highest level with great care.
The gift represents a pine tree symbolic of eternal youth and longevity and a cosy house and bears an inscription reading "On the 50th birthday of Chairman Kim Jong Il".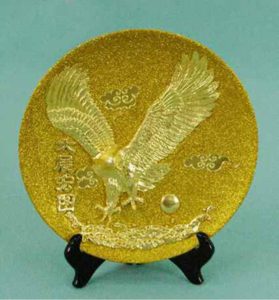 Gold-Plated Work "Dazhanhongtu"
This is a gift presented to Supreme Leader Kim Jong Un by Zhou Haijiao, granddaughter by daughter of Zhou Baozhong who was related to the anti-Japanese revolutionary struggle, on her visit to the DPRK in March Juche 99(2010).
As the traditional craftwork of the southern part of Fujian Province, China, with a 300-year history, the gold-plated work is called an artistic treasure of China as it is made by combining the three traditional techniques of craftsmanship of the country.
The Chinese characters inscribed in the work read "Dazhanhongtu" meaning "bright blueprint unveiled". Embossed on the tray is a stately hawk soaring up beating its wings.
As she handed over the gift, Zhou Haijiao said she sincerely wished Supreme Leader Kim Jong Un would develop the DPRK into a powerful socialist country.