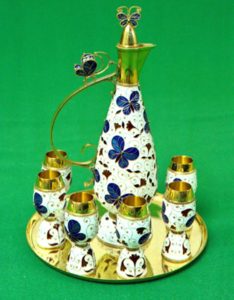 Set of Wine Cups
This is the gift presented to President Kim Il Sung by Leonid Ilyich Brezhnev, general secretary of the Central Committee of the Communist Party of the Soviet Union and chairman of the Presidium of the Supreme Soviet of the USSR in April Juche 71(1982).
The gift reflects the reverence of the general secretary for the President who reached his 70th birthday at that time.
He was genuinely pleased about the traditional friendly and cooperative relationship between the DPRK and the USSR developing day by day thanks to the energetic activities of President Kim Il Sung.
The kettle is made of copper and coated with white porcelain glaze on the surface. A beautiful brown flower and blue butterfly are painted on its surface and a butterfly motif in relief with its wings stretched decorates the stopple and handle. The body and bottom of wine cups are coated with white porcelain glaze and decorated with butterfly and flower motifs.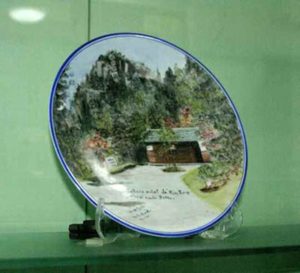 Ceramics Handicraft "Native Home at the Paektusan Secret Camp"
This gift was presented to Chairman Kim Jong Il by the chairman of the Ecuadorian Cultural Institute for the Study of the Juche Idea who is also a director of the International Institute of Juche Idea in October Juche 79(1990).
He cherished boundless reverence and admiration for Chairman Kim Jong Il who developed and enriched the immortal Juche idea propounded by President Kim Il Sung and translated it into brilliant reality in socialist Korea. He prepared the meaningful gift on the occasion of his visit to the DPRK for participation in the celebrations of the 45th founding anniversary of the Workers` Party of Korea.
The gift depicts the native home at the secret camp on Mt Paektu, where the Chairman was born, on a round ceramic disk.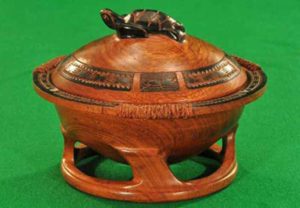 Wooden Bowl
The gift was presented to Supreme Leader Kim Jong Un by the president of the Republic of Fiji in October Juche 101(2012).
The gift made of teak wood shows the tradition and culture of Fiji. It consists of a bowl and its lid made by processing round timber. The handle of the lid is in the shape of a tortoise which is a symbol of health and longevity.
While conveying the gift, the minister of foreign affairs and international cooperation of Fiji on his visit to the DPRK said:
"This is the gift from the President of Fiji to HE Kim Jong Un, the supreme leader of the Korean people. In our country the tribal chiefs having been using this kind of bowls traditionally. The gift reflects the sincere reverence of the president and people of Fiji for the respected HE Kim Jong Un."