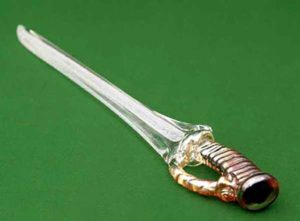 Crystal Sword
It is a gift presented to President Kim Il Sung by chairman of National Committee of Finland for the Study of Juche Idea in April Juche 81(1992).
With his boundless respect for the President who created the immortal Juche idea, the chairman had long studied and actively disseminated the Juche idea. Before his visit to the DPRK, he prepared the gift by placing a special order with a renowned craftsman.  
In the frilly handle close to protective ring and the sharp blade of the sword are the august name of the President and "Long Sword of Juche Idea" written in Finnish. 
It wears both his warm feeling to fervently celebrate the 80th birth anniversary of President Kim Il Sung and his oath to strive for accomplishment of the cause of independence of the popular masses, holding high the treasured sword of the Juche idea.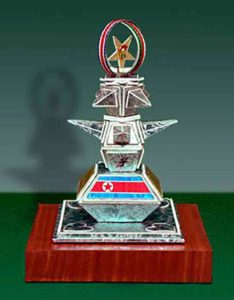 Commemorative Signal Tower
It is a gift presented to Chairman Kim Jong Il in February Juche 71(1982) by Louis Manuel De Araujo, chairman of Portuguese Central Committee for the Study of Kimilsungism.
He completed this model of commemorative signal tower with his much labor and by the help of a craftsman.
It bears his true mind to praise the undying feats performed by the Chairman who had led the Korean and world revolution to the victory with his energetic ideological and theoretical work and gigantic revolutionary practices.
Handing it over, he said that it was the duty of all Kimilsungism followers to endlessly admire and follow His Excellency Great Kim Jong Il and he had a great honor to present that humble gift on his birth anniversary.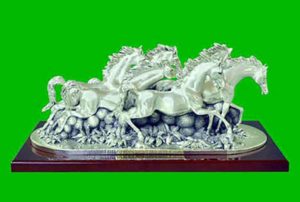 Silver-plated Craftwork "Six Steeds"
It is a gift presented to the respected Comrade Kim Jong Un by the CEO of Stroi Otzelka Ltd. Co., Russia on the occasion of the 66th anniversary of the founding of the DPRK.
He deeply admired the respected Comrade Kim Jong Un for his firmly defending the socialist Korea against the acts of isolation and suffocation by the imperialist allied forces upholding the banner of independence and the DPRK that achieved series of world-startling miracles under his wise leadership.
He decided to present his gift to the respected Comrade Kim Jong Un on the occasion of the founding day of the DPRK and prepared with his great care a horse sculpture which is traditionally regarded as a symbol of power, bravery, strong will and passion.
His gift cherishes his ardent desire and the Russian friends who really want all the DPRK`s people to surely accomplish the historical cause of building the socialist power by vigorously advancing in the Chollima spirit, rallied more firmly around the respected Comrade Kim Jong Un.