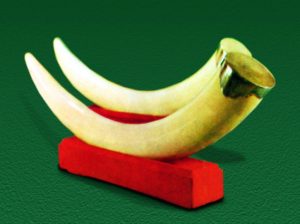 Ivory
Ho Chi Minh, president of the Democratic Republic of Vietnam, presented it as a gift to President Kim Il Sung who was on a visit to Vietnam in Juche 47(1958).
In Vietnam ivory is presented to the most respected men or heads of state as a gift as a token of best wishes for their long life and good health.
In accordance with such custom of his country, Ho Chi Minh prepared a set of the oldest and biggest ivory as a gift to the President.
The gift represents his deep respect for and absolute trust in the President and reflects his true wish for his long life and good health.
Presenting the gift with respect, Ho Chi Minh sincerely wished President Kim Il Sung successful visit to Vietnam.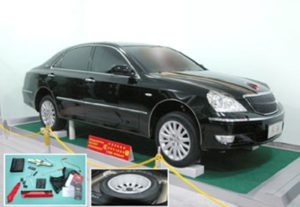 "Hongqi" Car
It was presented to Chairman Kim Jong Il in May Juche 100(2011) by the Jilin Provincial Committee of the Communist Party of China, the people`s government of Jilin Province and the First Automotive Works of China.
As they had heard the news that the Chairman visited Changchun City, the capital of Jilin Province, in August the year before, the FAW officials repeatedly reported through the related official on the strong desire of all its employees to meet the Chairman.
The gift is "Hongqi", a sedan manufactured by the FAW.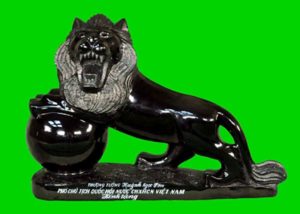 Coal Sculpture "Lion"
The gift was presented to Supreme Leader Kim Jong Un in July Juche 104(2015) by Huynh Ngoc Son, vice-chairman of the National Assembly of Vietnam.
Lion is said to be symbolic of the authority and power in Vietnam.
The sculpture depicts an intrepid lion standing with his forefeet on a globe and written in Vietnamese on the front of the bottom board are letters reading "Respectfully presented by Colonel General Huynh Ngoc Son, vice-chairman of the National Assembly of the Socialist Republic of Vietnam."
The gift mirrors his sincere wish that all the Korean people would win greater victory in the building of a powerful socialist country firmly united behind the Supreme Leader and his firm will to bolster up friendly relations between the two countries, specifically between parliaments.