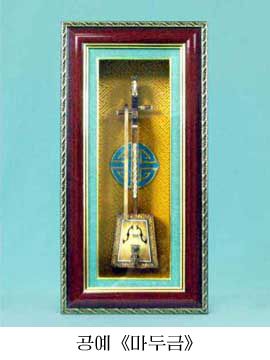 Handicraft 'Horse-head Stringed Instrument'
The gift was sent by Mongolian President Tsakhiagiin Elbegdorj to Chairman Kim Jong Il in March Juche 100(2011).
It depicts the national musical instrument of Mongolia in the shape of the head of horse.
The strings of the instrument and its bow strings are made of horsehair, which shows the long-standing custom of the Mongolians who led a nomadic life.
It is said that the Mongolian President prepared the gift out of reverence for the DPRK leader who paid close attention to the development of the traditional friendly ties between the two countries.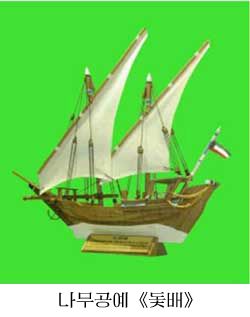 Wood Handicraft 'Sailing Ship'
The gift was sent by Kuwaiti Emir Sabah al-Ahmad al-Jaber al-Sabah to Chairman Kim Jong Il in November Juche 100(2011).
The two-sail ship with the Kuwaiti national flag on the poop is said to symbolize part of the history of the country.
The Kuwaiti people have attached importance to sailing and trade and commerce from olden times and accordingly sailing ships were used as the main means of transportation.
The sailing ship is also seen in their national emblem.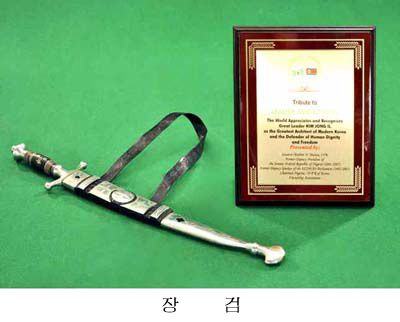 Long Sword
The former vice-president of the Senate of Nigeria presented as gifts the "Long Sword" and "Metallographic Letter of Eulogy" in reverence for Chairman Kim Jong Il in April Juche 101(2012) as he visited the DPRK to participate in the international festival in celebration of the centenary of the birth of President Kim Il Sung.
He said he had prepared the gifts praying for the immortality of the great leader HE Kim Jong Il, describing him as the eternal Sun of the progressive mankind who illumined the road of independence for the oppressed people with the great Juche idea and Songun.
He continued to say that in reflection of the unanimous wish of the world's progressives who hope that Supreme Commander HE Kim Jong Un would safeguard to the last socialism in the DPRK, which is their beacon of hope and life, by holding firmly the treasured sword of Songun, he sincerely wished for his good health and welfare and hoped that victory and glory are always in store for the Korean people advancing forward following his leadership.