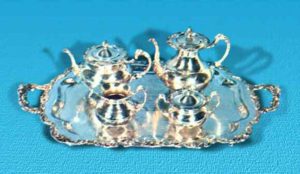 Silver Tea Set
The gift was presented to President Kim Il Sung by Humberto Ortiz Flores, manager of the Voluntad Publishing House of Ecuador, and his family in April Juche 66(1977) on the occasion of the 65th birthday of the President.
The Ecuadorians are said to have a custom of presenting tableware or valuables made of silver as a token of their wish for the good health and long life of honourable persons.
At the bottom of the teapot rest are the letters reading: "We present the gift with warm love and deep respect for outstanding Marshal Kim Il Sung, the great fatherly leader of the Korean people. Humberto Ortiz and all family members, Quito".
President Kim Il Sung devoted his all to the freedom and happiness of the people and performed immortal exploits for the times and revolution and was to greet his 65th birthday. The gift reflects the wish of the Ecuadorian family for the good health of the President for the victory of the Juche idea throughout the world.
It also mirrors their fervent aspiration and will to uphold and follow him as the Sun of mankind and saviour who gave them a fulfilling life and joy of rebirth.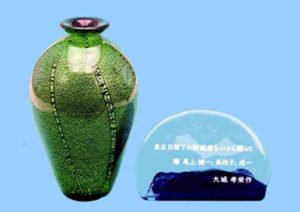 Glass Vase
The gift was presented to Chairman Kim Jong Il by Ogami Kenichi, secretary general of the International Institute of the Juche Idea, in August Juche 90(2001).
Ogami`s family, who admired the Chairman from a long time ago, placed a special order to a highly skilled glass craftsman in Okinawa to prepare the gift as the best among famous craftworks in Japan.
As he handed over the gift, head of the international institute earnestly said:
My family live with boundless respect and reverence for HE General Secretary Kim Jong Il who opens a new era of the cause of independence. In reflection of our mind to follow and uphold him forever generation after generation, we prepared a glass vase which is most renowned in Japan. Although it may seem plain, the glass vase mirrors our mind as limpid and clean as glass, our earnest mind to follow him forever. So please convey it to him.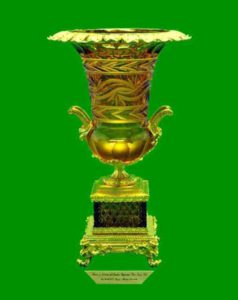 Crystal Vase
The gift was presented to Supreme Leader Kim Jong Un by the general director of an Italian joint-stock company and his wife in October Juche 102(2013).
The couple keeping deep reverence for the Supreme Leader prepared the crystal vase in natural amber made by a famous craftsman in Italy.
The gift made by using a traditional glass-processing technique of Italy is a unique decoration with great sunlight reflecting power.
Handing over the gift, the general director said:
I present this vase to the respected Marshal Kim Jong Un, supreme leader of the Korean people who vigorously leads the building of a powerful socialist country, out of my boundless reverence for him and sincere wish that he would be the warm sunlight shining on the whole world. I respectfully wish him good health.