Wood Carving "An Elephant Dragging a Log", Wooden Treasure Box, Tea Table, Fur Scarf
The gifts were presented to President Kim Il Sung by the general secretary of the Central Committee of the Lao People`s Revolutionary Party who was also chairman of the Council of Ministers of the Lao People`s Democratic Republic as he visited the DPRK in June Juche 66(1977).
Presenting the gifts to the President, he said that though they were simple, they reflected the fervent wish of the Laotian people for good health of the respected Comrade Kim Il Sung and their firm resolve to be self-reliant like the Korean people.
The gifts mirror their warm heart to hold in high esteem and follow the President, who illuminated the road ahead of the world revolution with the brilliant rays of the glorious Juche idea, as the eternal sun of humankind.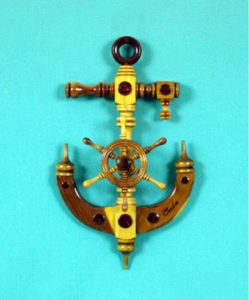 Woodwork "Anchor and Steering Wheel of the Granma"
It was presented to Chairman Kim Jong Il by the chairman of the Cuban committee for supporting the Korean reunification in April Juche 96(2007).
As he worked as an ambassador to the Democratic People's Republic of Korea for a long time, he was deeply charmed by the personality traits of Chairman Kim Jong Il as a great man. He decided to prepare a gift, namely an anchor and a steering wheel of a big ship symbolizing revolution made of precious wood growing in the eastern area of Cuba and present it to the Chairman. Then he specially ordered it from a sculptor of high craftsmanship.
The anchor carries the meaning that close friendship between the two parties, governments and peoples of the DPRK and Cuba built by President Kim Il Sung would remain firm in any storm and the steering wheel expresses the firm belief that the ship signifying a revolution would sail straight forward without losing its course.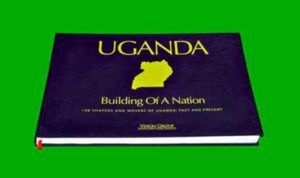 Picture Album "Uganda"
The gift was presented to Supreme Leader Kim Jong Un by the president of the Republic of Uganda in July Juche 102(2013).
The president came to ardently revere President Kim Il Sung and Chairman Kim Jong Il through his several visits to the Democratic People's Republic of Korea. So he prepared a picture album introducing Uganda as a gift.
The Ugandan vice-president visited the DPRK to attend the celebrations of the 60th anniversary of the victorious Fatherland Liberation War and conveyed the gift. He said that the picture album was published to mark the 50th anniversary of independence of Uganda and the DPRK celebrated the 60th anniversary of victory in the war that year. Over the past several decades the two countries have strengthened and developed bilateral relations while maintaining close cooperation, he added, hoping that such good relations would grow stronger.