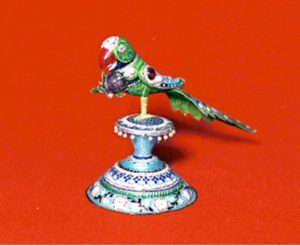 Silver Craftwork "Parrot"
This is a gift presented to President Kim Il Sung by the Indian president in March Juche 82(1993).
The president, who had long revered and respected President Kim Il Sung as the outstanding leader of the non-aligned movement and veteran statesman of the world, prepared and presented the gifts to the President on his 70th and 80th birth anniversaries respectively.
In March Juche 82(1993), too, he prepared the silver craftwork "Parrot" as a gift.
The gift is made with a parrot decorated with jewels and a ring-shaped supporter.
The silver craftwork "Parrot" is so nicely framed in formative artistic representation with wonderful decoration that it raises appreciation effect.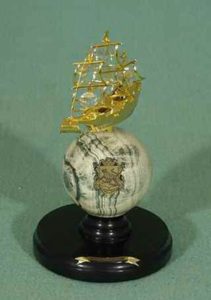 Craftwork "Sailing Boat"
This is a gift presented to Chairman Kim Jong Il by the advisory president of the Far East National University of Technology, Russia in June Juche 97(2008).
The gift, made by specially ordering its design to a souvenir maker in Vladivostok, represented a sailing ship making its way through wild sea on the globe made with colored marble.
Vladivostok city mark is at the center of the globe and the sailing ship is decorated with five crystal balls pierced in two lines.
Handing the gift over, the advisory president expressed his wish that the Korean people, who are building the unique socialist society, would continue their vigorous advance along the road they have chosen under the leadership of Comrade Kim Jong Il.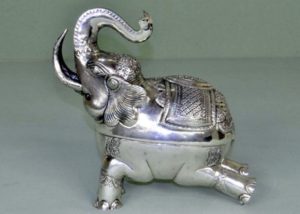 Silver Craftwork "Elephant"
This is a gift presented to the respected Comrade Kim Jong Un by the minister of state of the Kingdom of Cambodia in October Juche 104(2015).
In Cambodia, the elephant symbolizes wisdom, prosperity, bravery and longevity as he is clever and mighty and lives more than one hundred years.
The silver craftwork is made into a running elephant with his nose and teeth held high.
The gift is fraught with his mind that expresses full support to the Korean people in their struggle to dash forward resolutely sweeping away all trials and hardships under the wise guidance of the respected Comrade Kim Jong Un.