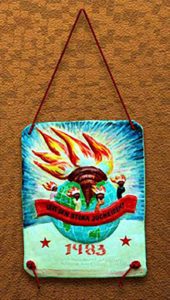 Ceramic Handicraft "Long Live the Great Juche Idea"
It is a gift presented to President Kim Il Sung in June Juche 72 (1983) by the delegation of the Stockholm Group for the Study of Juche Idea of Comrade Kim Il Sung in Sweden.
On the threshold of their visit to the DPRK, members of the group decided to make a ceramic handicraft which symbolized the world-historic victory of the Juche Idea after their repeated discussions.
As they thought it would be more meaningful and significant to make the gift by their hands, they pooled their intelligence, drew designs, manufactured and completed the gift.
In the gift there are the Earth which has the DPRK at its center, the big torch which has the letters "Juche, Korea", the four smaller torches held by different colored strong fists which mean the mankind, a ribbon which reads " Long Live the Great Juche Idea" and the two stars which symbolize the DPRK-Sweden friendship.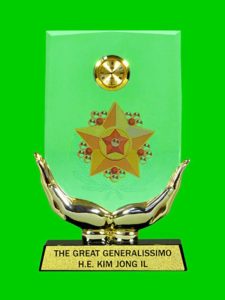 Crystal Handicraft "Long Live the Songun Politics"
It is the gift presented to Chairman Kim Jong Il by Abudulah Adamu, senator of the Federal Republic of Nigeria in August Juche 105(2016).
As he highly respected and praised Chairman Kim Jong Il who had reliably defended sovereignty of his country and nation and laid a solid foundation for building a socialist power with his unique Songun politics, he decided to present the gift on the occasion of the significant day when the Chairman left his first mark on the leadership of the revolutionary armed forces.
He said that the DPRK`s Generalissimo star placed at the center of the gift symbolizes Chairman Kim Jong Il as a great statesman and outstanding military strategist publicly recognized by the whole world and that the clock on its upper part shows the world is now moving round, adjusting itself to the time of the DPRK.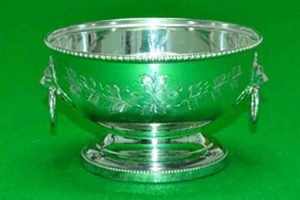 Silver Tray
This gift was presented to the respected Comrade Kim Jong Un in July Juche 102(2013) by Harish Gupta, president of the Asian Institute of the Juche Idea.
He prepared the silver tray as a gift in order to express his feeling of respect for the respected Comrade Kim Jong Un who has demonstrated the dignity of the DPRK all over the world, true to the intention of the President and the Chairman.
India has had a custom of presenting precious metal craftwork to the most respected people from olden times.
As a traditional craftwork of India, lions were attached adjacent to rings in either side of the tray and flowers carved at its center.