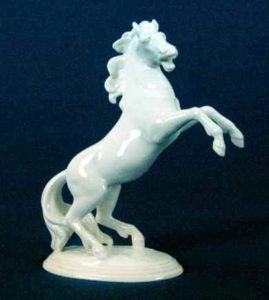 Ceramic Craftwork "White Horse"
This is a gift presented to President Kim Il Sung by the ex-president of the Supreme Court of the Republic of Austria who visited the DPRK in April Juche 71(1982).
The Austrians regard the horse that runs well through mountains as a symbol of strength and speed.
He prepared the ceramic work as a gift in praise of the revolutionary spirit of the Korean people who were rushing forward like a wind for achieving the final victory of socialism under the wise leadership of the President.
As he conveyed the gift, he said he carried the gift himself for respected His Excellency President Kim Il Sung from Vienna to Pyongyang, adding that it reflected his sincere intention to loyally hold the President in high esteem.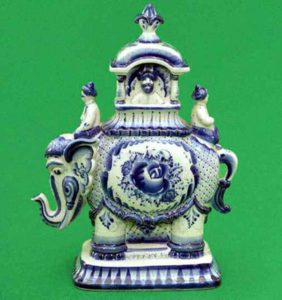 Ceramic Craftwork "Elephant"
The gift was presented to Chairman Kim Jong Il by Vishwanath, director general of the International Institute of the Juche Idea, in April Juche 90(2001).
As he was completely enchanted by the extraordinary ideological and theoretical wisdom and ennobling personalities of the peerlessly great men of the DPRK, he prepared gifts each time he visited the country.
The gift represents an elephant and a king on it.
The Indian people have idolized the elephant since olden times, regarding it as a symbol of strength and courage. In particular, they depict an elephant carrying a king in sculpture or craftwork to present it to respected persons.
The gift depicts a king on the elephant fully covered with flower-embroidered silks and satins, with a guard in front and a sitting musician at the back.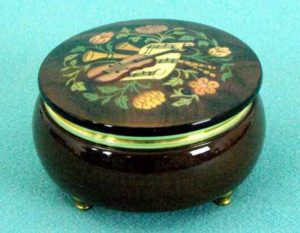 Music Box
The gift was presented to the respected Comrade Kim Jong Un by Martin Lotscher, chairman of the Switzerland-Korea Committee and chief of the Swiss Group for the Study of the Juche Idea, on October 20 Juche 99(2010) on the occasion of the 65th anniversary of the Workers` Party of Korea.
He was enchanted by the DPRK leader`s personality traits as a great man as he saw and heard about him on TV, newspapers and other media, and decided to present a music box to him as a gift. Music boxes are widely known as a specialty of Switzerland.
It is associated with the earnest wish of the Swiss personage who hopes the DPRK leader would rest even for a moment, while listening to music.
There are a special device for playing tunes inside a round wooden box and clockwork at the bottom of it. Painted on its lid are Leontopodium alpinum, a stave, violin and horn.