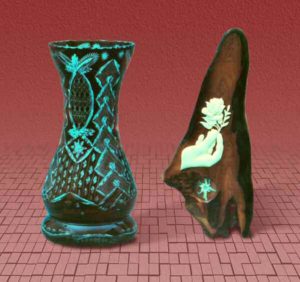 Crystal Vase and Wooden Craftwork
It is a gift presented by the delegation of the Grand National Assembly of the
Socialist Republic of Romania to President Kim Il Sung in September Juche 75(1986).
Presenting the gift to the President, the head of the delegation said:
"Respected Comrade Kim Il Sung, members of the delegation of the Grand National Assembly of the Socialist Republic of Romania present to you a flower vase made of crystal and wooden craftwork in reflection of our respects and reverence for you."
The crystal vase is carved with decorative patterns linked with different angles and lines.
While promoting the natural appearance of the surface of an old tree root, the wooden craftwork embossed a hand holding a full-blown rose on the surface after processing the front and rear parts to be plane.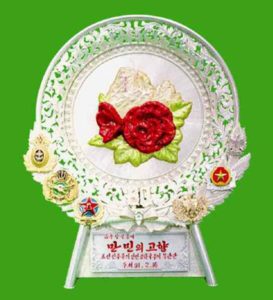 Metal Craftwork 'Homeland of World People`
It is a gift presented by the military attaches corps in the DPRK to Chairman Kim Jong Il in February Juche 91(2002).
Members of the corps completed the design by pooling collective wisdom and prepared the gift with sincerity. It embossed the Jongil Peak and full-blown Kimjongilia in the centre and decorated with artificial jewels and patterns of leaves of wild chamomile at the margin.
"On the occasion of the 60th anniversary of the birth of Chairman Kim Jong Il, great leader of the Korean people, I, on behalf of all members of the military attaches corps residing in the DPRK, warmly congratulate Kim Jong Il, the supreme commander of the Korean People`s Army, and sincerely wish him good health and greater success in the struggle of building a powerful socialist country," said the head of the corps on the spot of relaying the flower basket and gift to the Chairman.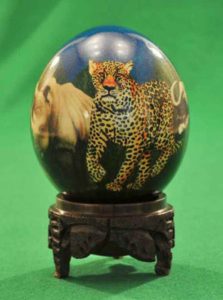 Ostrich Egg Craftwork 'African Animals'
It is a gift presented to the respected Comrade Kim Jong Un by a member of the delegation for the study of the Juche idea of South Africa in April Juche 101(2012).
He prepared the gift depicting the appearance of the Korean people who are united single-heartedly by advancing forward following the leadership of the respected Comrade Kim Jong Un possessed of matchless courage and grit, when he visited the DPRK to participate in the World Conference of the Juche Idea on the occasion of the centenary of the birth of President Kim Il Sung.
Depicted on the surface of the gift are leopard, buffalo, lion, elephant and rhinoceros, five animals symbolizing the bravery, sturdiness and unity in Africa.